A gold IRA needs to be carefully considered and chosen. It's crucial to take your time, clarify anything you don't understand with questions, and get advice from a financial counselor if necessary. You can increase your investment portfolio and improve your chances of securing a comfortable retirement with the appropriate gold provider, custodian, kind of IRA, and gold goods.
Find a reputable gold investment company.
Reviewing gold IRA providers and choosing the one you wish to engage with is the first step. Find a reputable and reliable investment firm that focuses on buying precious metals. Examine the history and ratings of the business on websites such as Better Business Bureau and Trustpilot. Verify its reputation and whether it has been the target of any regulatory measures.
Read other customers' reviews to find out how pleased they are with the business and what their experiences have been like with the customer service. You must have access to competent and trustworthy customer service that can address any problems or worries you may have right away.
Choose an IRS-approved custodian.
Next, you'll need to select an IRA custodian. A custodian is a non-bank trustee who holds your assets, manages your account and ensures the account complies with all applicable IRS rules and regulations. Some gold investment companies work with specific custodians, while others allow you to choose from a number of trustees.
When evaluating gold IRA custodians, make sure they are IRS-approved, have a good reputation and have been in the business for a long time. Ask what security measures they have in place to keep your assets safe and whether they offer an online platform so you can monitor your investments if you prefer.
Compare fees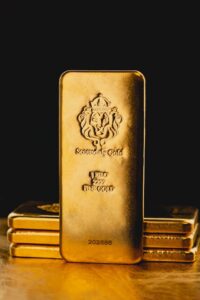 Different gold IRA providers and custodians charge different fees. It's essential to understand all the fees associated with an account before you sign on the dotted line.
Some fees to consider include annual storage fees, transaction fees and account setup fees. Be wary of any gold IRA provider or custodian that doesn't have a transparent fee structure or offers unusually low fees, as this could be a sign of hidden costs you might run into down the road.
Choose an IRA type.
There are three types of gold IRAs you can open:
Traditional gold IRAs are funded with pre-tax dollars, meaning you contribute money tax-free and withdrawals are taxed when you make them.
Roth gold IRAs are funded with after-tax dollars, meaning your contributions are taxed, but your withdrawals are tax-free.
SEP gold IRAs are available to small-business owners and self-employed individuals. They work like traditional gold IRAs, but the contribution limit is significantly higher.
Which type of gold IRA is best for you depends on your current and future income and retirement needs. A financial advisor can help you review all of your options.
Invest in gold products
The final step is selecting the right gold products for your IRA. There are different types of gold investments available, including gold bars and coins, exchange-traded funds (ETFs), mutual funds and stocks.
Consider your investment goals and risk tolerance when deciding which gold products to hold in your gold IRA. For example, gold coins are a popular option as they're easy to sell and have a lower minimum investment threshold. However, physical gold can be costlier to hold due to storage and insurance requirements.
If you're not sure which investment is best for your needs, a financial advisor can help you.…